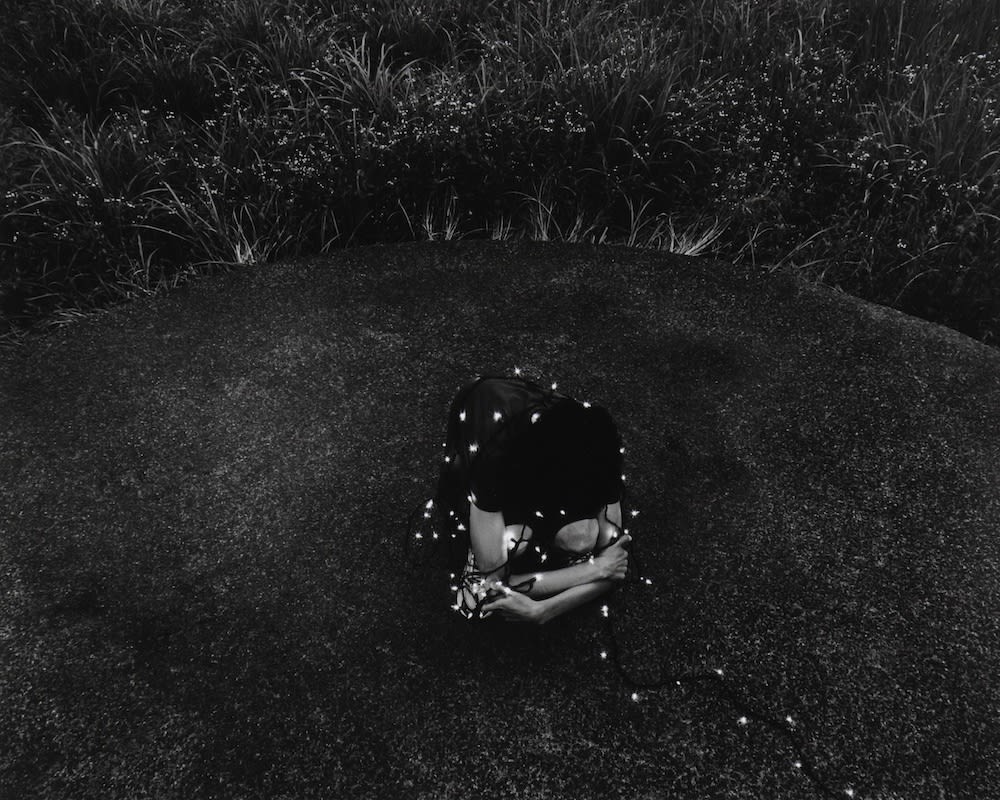 Hitoshi Fugo, a Japanese photographer, alludes to the celestial heartbreak of the story of Tanabata within his photograph, On the Circle 21, in which a young woman wrapped in stars, similarly to a lonesome constellation, hunches upon the Circle that Fugo photographs upon. On the Circle refers to a circle of concrete that Fugo stages various subjects and scenes, from generational portraits to nature's changing seasons; On the Circle 21 strikes me as a darker interpretation of the Tanabata love story.
July 7 marks the day colorful strips of paperfloat from bamboo, inscribed with children's wishes and lover's desires. These vibrant wishes represent the Chinese folkloric romance of "the Cowherd and the Weaver Girl" that the Tanabata Festival revolves around; an annual meeting between banished lovers Orihime, a weaving princess, and Hikoboshi, a cowherder. Celebrators of Tanabata wish upon the stars to commemorate the 7th of the 7th month, the only day the stars Vega (Orihime) and Altair (Hikoboshi) can both be seen amongst the sky, and the only day these lovers are reconnected.
While Tanabata traditions encourage wishful thinking, Fugo's lonely constellation girl reflects the tragic isolation that Orihime and Hikoboshi must endure 364 days of the year. While the traditional festival remarks reconnection, the tightly wrapped arms and the obscured face of the lonesome constellation represents the pain of heartbreak.